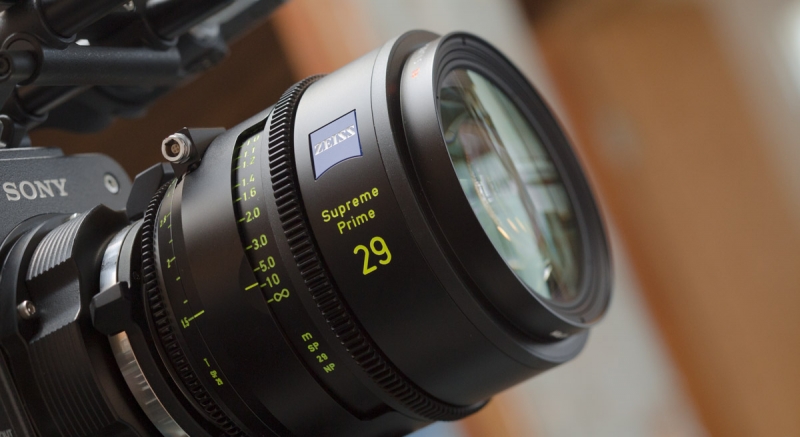 Zeiss Supreme Prime set 5x
set of 5; 25-29-35-50-85mm
fast T1.5 stop
lightweight and compact build
95mm front diameter
46,5mm image cirkel, covers S35 and LF
overview
Zeiss komt met een zeer uitgebreide serie nieuwe lenzen, die ook geschikt zijn voor FullFrame. Dit jaar de eerste 5 lenzen, in de loop van 2019 en 2020 volgen nog 7 lenzen.
Gezien de ervaring van Zeiss met High-end Cine lenzen als de Master Primes en de Master Anamorphics verwachten we er veel van. Wat meteen opvalt is het formaat van de lenzen; Kijk je naar de 50mm, dan is die 24mm korter, en maar liefst 1,5 kg (!) lichter dan de 50mm Master prime, ofwel, 2 Supreme Primes zijn lichter dan één MP. Ook de frontmaat van de lens gaat van 114mm bij de MP's naar 95mm bij de nieuwe Supreme Primes.
Dit is wat Zeiss er zelf over zegt;
The ZEISS Supreme Prime lenses are designed for cinematic large-format sensor coverage, making them the ideal choice for current and future camera systems. At T1.5 the ZEISS Supreme Primes demonstrate their unsurpassed craftsmanship in tricky low-light environments.
Aesthetic focus fall-off and elegant bokeh
A very smooth transition between in-focus and out of focus areas characterize the unique look of the ZEISS Supreme Prime lenses. This adds richer texture and greater depth to the image.
A versatile look and gentle sharpness
The ZEISS Supreme Primes possess a look, which ensures freedom in creating the look you want to achieve. Especially when capturing crucial textures such as skin tones, the unique quality of the ZEISS Supreme Prime lenses is a gentle sharpness that renders a crisp but organic look.

Efficiency and reliability throughout the entire production
The unique ZEISS eXtended Data technology offers lens metadata critical for VFX-intensive productions and workflows on set. The frame accurate information about focal length, focusing distance, T-stop and depth-of-field enables the camera assistant to work more precisely and eliminates guesswork for the DIT. The ZEISS specific distortion and vignetting data makes shooting grids redundant and accelerates compositing and stitching in post-production.
specifications
Release
Aperture
Close Focus

1

Length

2

Front diameter
Weight
Horizontal Angle of View

Full Frame 3

Super 35 4

Supreme Prime
15 mm T1.8

2020

T1.8 to T22

tbd

tbd

114 mm | 4.5''

tbd

tbd

tbd

Supreme Prime
18 mm T1.5

2020

T1.5 to T22

tbd

tbd

114 mm | 4.5''

tbd

tbd

tbd

Supreme Prime
21 mm T1.5

Q3
2019

T1.5 to T22

0.35 m | 13.7''

119 mm | 4.7''

95 mm | 3.7

1.5 kg | 3.3 lbs

79.5°

59.8°

Supreme Prime
25 mm T1.5

May
2018

T1.5 to T22

0.26 m | 10''

119 mm | 4.7''

95 mm | 3.7

1.42 kg | 3.13 lbs

70.8°

52.3°

Supreme Prime
29 mm T1.5

May
2018

T1.5 to T22

0.33 m | 13''

121 mm | 4.8''

95 mm | 3.7

1.61 kg | 3.55 lbs

64°

46.8°

Supreme Prime
35 mm T1.5

May
2018

T1.5 to T22

0.32 m | 13''

119 mm | 4.7''

95 mm | 3.7''

1.40 kg | 3.09 lbs

55°

39.6°

Supreme Prime
50 mm T1.5

May
2018

T1.5 to T22

0.45 m | 18''

119 mm | 4.7''

95 mm | 3.7''

1.22 kg | 2.69 lbs

39°

27.5°

Supreme Prime
65 mm T1.5

Q2
2019

T1.5 to T22

0.6 m | 2'

121 mm | 4.8''

95 mm | 3.7''

1.63 kg | 3.59 lbs

30.5°

21.3°

Supreme Prime
85 mm T1.5

May
2018

T1.5 to T22

0.84 m | 2'9''

119 mm | 4.7''

95 mm | 3.7''

1.42 kg | 3.13 lbs

24°

16.7°

Supreme Prime
100 mm T1.5

December
2018

T1.5 to T22

1.1 m | 3'9''

119 mm | 4.7''

95 mm | 3.7''

1.7 kg | 3.74 lbs

20.4°

14.2°

Supreme Prime
135 mm T1.5

Q3
2019

T1.5 to T22

1.35 m | 4'5''

146 mm | 5.7''

114 mm | 4.5''

2.3 kg | 5.4 lbs

15.6°

10.9°

Supreme Prime
150 mm T1.8

Q4
2019

T1.8 to T22

1.5 m | 4'11

146 mm | 5.7''

114 mm | 4.5''

2.3 kg | 5.4 lbs

13.7°

9.5°

Supreme Prime
200 mm T2.1

2020

T2.1 to T22

tbd

tbd

114 mm | 4.5''

tbd

tbd

tbd
In set
25mm T1.5
29mm T1.5
35mm T1.5
50mm T1.5
85mm T1.5