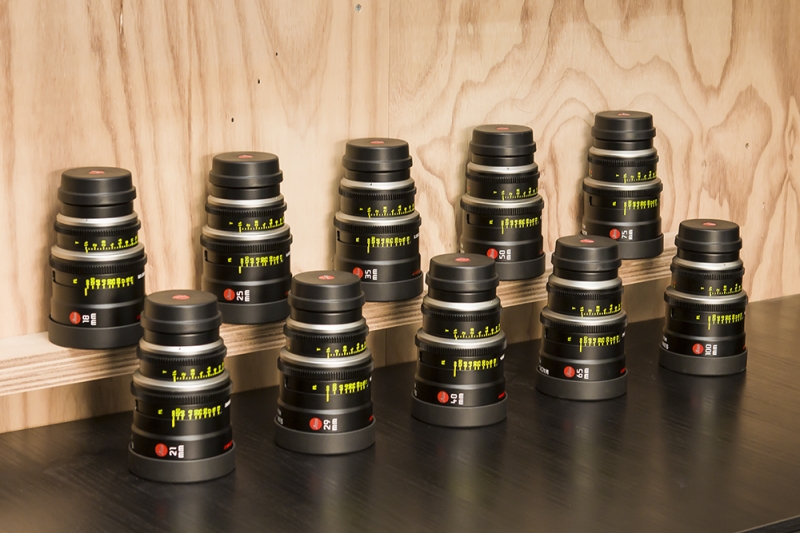 Leitz (Leica) Summilux-C Set 8x
T1.4 aperture
lightweight
compact design
extremely high resolution
Leica smoothness
95mm front
Set uit te breiden met 29 & 65mm
overview
De Leica Summilux-C lenzen behoren tot de beste lenzen ter wereld, en zijn daarvoor in 2015 bekroond met een Oscar. Uit het Oscar report; de Leica Summilux-C lenses deliver ultra- high optical performance for film and digital cameras. They incorporate novel telecentric, multi-element, aspherical optics and this full series of prime lenses deliver unprecedented optical and mechanical performance. On the mechanical side, precision machining gives each focus ring and iris ring accuracy and ease of repeatability for the operator. The small size of the lenses means smaller camera packages, cases, and rigs. On the optical side, the aspherical elements in each lens create a telecentric path of light allowing more illumination across the entire field.
Datzelfde jaar ging de Oscar voor Beste Film naar 'Birdman', gedraaid met, jawel, Leica Summilux-C lenzen.
At T 1.4 the Leica Summilux-C prime lenses are among the fastest modern lens sets available, but unlike traditional lenses they are designed to perform at their best when wide open.
Their unique design allows these cine lenses to be far smaller than any existing lenses below T2.0. At just 5.6" (142mm) long and weighing between 3.5 and 4 pounds (1.6-1.8kg), lens changes are easier and safer than ever, which is welcome news for camera assistants and hurried productions. Smaller lenses also result in smaller, lighter camera packages and cases as well as significantly smaller rigs.
The biggest complaint about 35mm cinema lenses has always been their large size intended to accommodate a focus ring with more witness marks. The Summilux-C lenses feature a patented focusing mechanism that eschews the logarithmic focusing of the past by expanding the focus scale in the most critical range.
The use of exotic aspherical elements in each Leica Summilux-C lens creates a telecentric path of light from the rear element to the sensor. Telecentricity and aspheric correction not only reduce chromatic aberrations and color fringing, but also create a more even illumination across the entire field. Add in an already large image circle and the Summilux-C lenses are the perfect companions for larger digital sensors like RED's Helium sensor.
specifications
16mm
18mm
21mm
25mm
29mm
35mm
40mm
50mm
65mm
75mm
100mm
135mm
APERTURE
T 1.4 - T 22 - fully closed (except 135mm T 1.4 - T16 - full close)
CLOSE FOCUS (m)
.35m
.35m
.31m
.31m
.46m
.36m
.41m
.5m
.46m
.7m
.9m
1.25m
CLOSE FOCUS (ft.)
1'2"
1'2"
1'0"
1'0"
1'6"
1'2"
1'4"
1'8"
1'6"
2'3"
2'11"
4'1"
IMAGE CIRCLE
minimum 33mm
IRIS BLADES
10
10
11
11
11
12
11
10
15
15
15
15
LENGTH
5.6" / 142 mm (except 135mm - 7.6" / 193 mm)
FRONT DIAMETER
95 mm / 3.7" (except 135mm - 4.5" / 116 mm)
WEIGHT (kg)
1.7kg
1.6kg
1.6kg
1.8kg
1.7kg
1.6kg
1.6kg
1.8kg
1.7kg
1.6kg
1.6kg
3.4kg
WEIGHT (lb)
3.8lb
3.6lb
3.6lb
4.0lb
3.7lb
3.6lb
3.6lb
3.9lb
3.7lb
3.5lb
3.5lb
7.4lb

In set
Leica Summilux-C 18mm T1.4
Leica Summilux-C 21mm T1.4
Leica Summilux-C 25mm T1.4
Leica Summilux-C 35mm T1.4
Leica Summilux-C 40mm T1.4
Leica Summilux-C 50mm T1.4
Leica Summilux-C 75mm T1.4
Leica Summilux-C 100mm T1.4