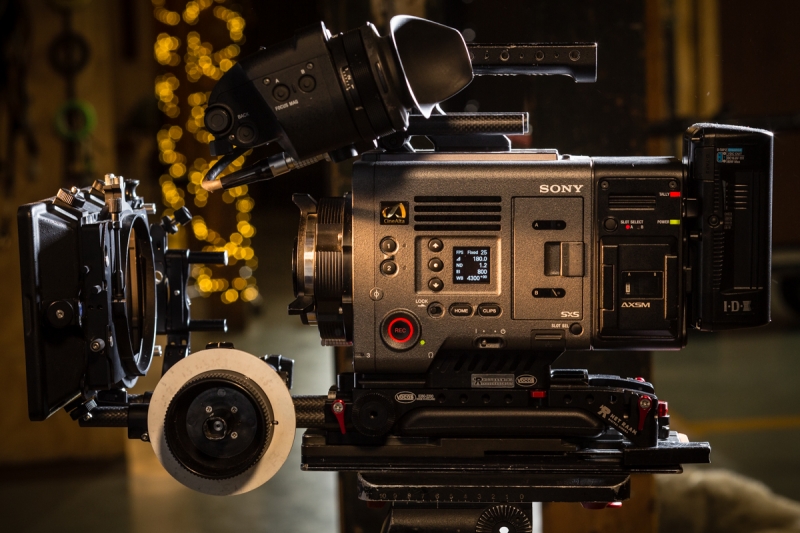 Sony Venice 6K FullFrame set
Firmware 4 with Highspeed
6K up to 60fps
4K up to 110fps
24x36mm 6K FullFrame sensor
4K anamorphic and S35
PL/LPL mount or Sony E-mount
8-stop mechanical ND filter
1920x1080 Oled Viewfinder
Records Raw, X-OCN to AXS cards and X-AVC to SxSpro
overview
De Sony Venice heeft een 6K Full Frame of Large Format sensor (24x36mm). Dat maakt de camera geschikt voor vrijwel alle formaten. LF, S35, anamorphic; het kan allemaal op deze sensor. Ook de lens mount kan meerder formaten aan; standaard PL, maar ook om te bouwen naar een Sony E-mount en nu ook de nieuwe Arri LPLmount. De camera neemt voor de allerhoogste kwaliteit in de R7 recorder RAW/OCN op, maar kan ook naar SxS-pro kaarten opnemen.
De viewfinder heeft eeen Full-HD OLED scherm met een Full HD resolutie. En de camera heeft een dual-ISO mode: naar keuze 500 of 2500 ISO.

In Firmware 4 heeft de Venice nu een high speed option. In 6K kan je tot 60fps draaien, in 4k zelfs tot 110fps!



specifications
Power Requirements
DC12V (11-17.0V)
DC24V (22~32.0V)
Mass
Approx. 3.9kg (8lb 10oz) (without lens, handle, VF attachment expansion bottom plate and accessories)
Dimensions
Imaging Device
Full-Frame CMOS
Imaging Device Pixel Count
24.7M (total), 24.4M (effective)
Imaging Device Size
36.2x24.1mm. 43.5mm (diagonal).
Built-In ND Filters
Clear, 0.3(1/2), 0.6(1/4), 0.9(1/8), 1.2(1/16), 1.5(1/32), 1.8(1/64), 2.1(1/128), 2.4(1/256)
Lens Mount
PL Mount
E-mount (lever lock type, without supplied PL lens mount adaptor)
Select FPS*
Imager mode:
3.8K 16:9, 4K 17.9: 1-60FPS
4K 4:3: 1-48FPS
4K 6:5, 5.7K 16:9, 6K 17:9, 6K 1.85:1, 6K 2.39:1: 1-30FPS
6K 3:2: 1-24FPS
White Balance
2000~15000Kelvin and Green/Magenta adjust, AWB*
Gamma Curve
Recording Format (Video)
XAVC 4K Class480: 23.98p, 24p, 25p, 29.97p
XAVC 4K Class300: 23.98p, 24p, 25p, 29.97p, 50p, 59.94p
XAVC QFHD Class480: 23.98p, 25p, 29.97p
XAVC QFHD Class300: 23.98p, 25p, 29.97p, 50p, 59.94p
MPEG HD422(1920x1080): 23.98p, 24p, 25p, 29.97p, 50i, 59.94i
HD ProRes 422HQ*: 23.98p, 24p, 25p, 29.97p, 50p, 59.94p, 50i, 60i
HD ProRes 422*: 23.98p, 24p, 25p, 29.97p, 50p, 59.94p, 50i, 59.94i
HD ProRes 422 Proxy*: 23.98p, 24p, 25p, 29.97p, 50p, 59.94p, 50i, 59.94i
Recording Format (RAW/X-OCN) *required AXS-R7
RAW SQ:
4K 17:9 (4096 x 2160): 23.98p, 24p, 25p, 29.97p, 50p, 59.94p
3.8K 16:9 (3840 x 2160): 23.98p, 25p, 29.97p, 50p, 59.94p
X-OCN ST/LT:
6K 3:2(6048 x 4032)*: 23.98p, 24p,
6K 2.39:1 (6048 x 2530)*: 23.98p, 24p, 25p, 29.97p
6K 1.85:1 (6048 x 3270)*: 23.98p, 24p, 25p, 29.97p
6K 17:9 (6048 x 3190)*: 23.98p, 24p, 25p, 29.97p
5.7K 16:9 (5672 x 3190)*: 23.98p, 25p, 29.97p
4K 6:5(4096x3432)*:23.98p, 24p, 25p, 29.97p
4K 4:3(4096x3024) :23.98p, 24p, 25p*, 29.97p*
4K 17:9 (4096 x 2160): 23.98p, 24p, 25p, 29.97p, 50p, 59.94p
3.8K 16:9 (3840 x 2160): 23.98p, 24p, 25p, 29.97p, 50p, 59.94p
Recording Format (Audio)
DC Input
XLR-type 4pin (male)
Battery DC Input
Square-shaped 5pin connector
DC Output
12V: Hirose 4pin x1
24V: Fischer 3pin x2
SDI Output
BNC×4, (12G, 3G, 1.5G-SDI)
HD MONI Output
BNCx1 (1.5G-SDI)
Audio Input
XLR-type 5pin (female) x1 (LINE/ AES/EBU / MIC / MIC 48V selectable)
AUX
LEMO 5pin (female) x1 (Timecode Output)
Lens Mount Hot Shoe
4pin x2, conforming to Cooke /i Intelligent Electronic Lens System
Network*
RJ-45 type x1, 10BASE-T, 100BASE-TX
Headphone Output
Stereo mini jack x1
Media type
ExpressCard/34 slot×2
SD card slot ×1
LPCM 4ch , 24-bit 48-kHz
S-Log3
133 x 159 x 172 mm (without protrusion)




In set
Sony Venice with R7 recorder
Sony Oled Viewfinder
Sony R7 recording unit
2x512G AXS48 card and reader
15/19mm and shoulder support
Mattebox
FollowFocus
4x V-lock battery and charger
handle bars