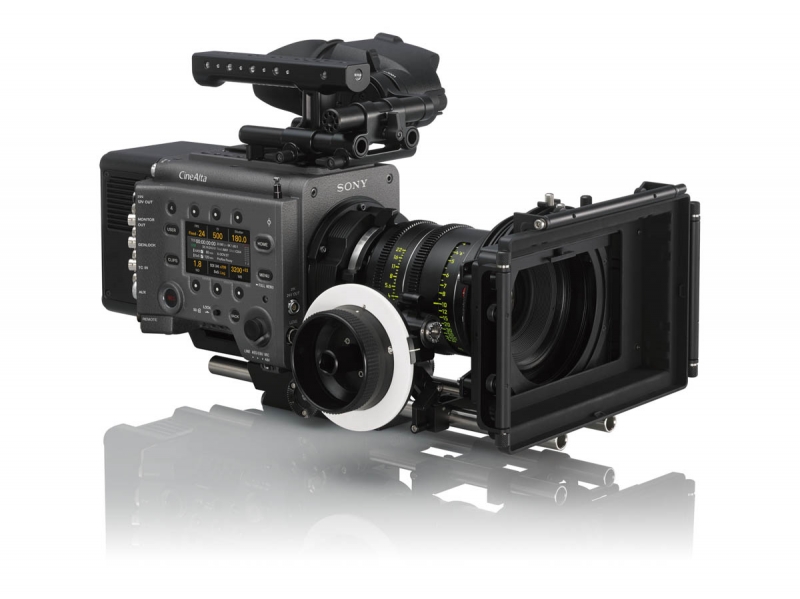 Sony Venice 6K FullFrame set
24x36mm 6K FullFrame sensor
4K anamorphic and S35
PL mount or Sony E-mount
8-stop mechanical ND filter
1920x1080 Oled Viewfinder
Records Raw, X-OCN and X-AVC to SxS or AXS cards
overview
Sony zet een grote stap met haar nieuwe flagship camera; met de 6K FullFrame of Large Format sensor (24x36mm) is de camera geschikt voor alle formaten. LF, S35, anamorphic; het kan allemaal op deze sensor. Ook de lenspoort kan meerder formaten aan; standaard PL maar ook Sony E-mount. De camera neemt op naar SxS-pro kaarten en kan daarnaast met de koppelbare R7 recorder RAW/OCN opnemen voor de allerhoogste kwaliteit.
De viewfinder heeft eeen Full-HD Oled screen. En de camera heeft een dual-ISO mode; zij is naar keuze 500 of 2500 ISO. Vanaf het begin zijn nog niet alle functies enabled, via updates wordt langzaam het hele scala beschikbaar.

De Sony Venice LF heeft in juli de eerste update (2.0) gehad; Naast PL wordt wordt nu ook de E-mount ondersteund voor een enorm scala aan lenzen. Dual ISO -500 en 2500- werkt , net als variable speed. Nieuwe codecs (prores) en formaten zoals 6K 1:1.85, Anamorphic en nog veel meer.
De volgende update met nog meer mogelijkheden wordt in januari 2019 verwacht.
specifications
Power Requirements
DC12V (11%uFF5E17.0V)
DC24V (22~32.0V)
Operating Temperature
0 %uFF5E 40%u2103
Storage Temperature
-20%u2103%u301C60%u2103
Mass
Approx. 3.9kg (8lb 10oz) (without lens, handle, VF attachment expansion bottom plate and accessories)
Dimensions
Imaging Device
Full-Frame CMOS
Imaging Device Pixel Count
24.7M (total), 24.4M (effective)
Imaging Device Size
36.2x24.1mm. 43.5mm (diagonal).
Built-In ND Filters
Clear, 0.3(1/2), 0.6(1/4), 0.9(1/8), 1.2(1/16), 1.5(1/32), 1.8(1/64), 2.1(1/128), 2.4(1/256)
Lens Mount
PL Mount
E-mount (lever lock type, without supplied PL lens mount adaptor)
Select FPS*
Imager mode:
3.8K 16:9, 4K 17.9: 1-60FPS
4K 4:3: 1-48FPS
4K 6:5, 5.7K 16:9, 6K 17:9, 6K 1.85:1, 6K 2.39:1: 1-30FPS
6K 3:2: 1-24FPS
White Balance
2000~15000Kelvin and Green/Magenta adjust, AWB*
Gamma Curve
Recording Format (Video)
XAVC 4K Class480: 23.98p, 24p, 25p, 29.97p
XAVC 4K Class300: 23.98p, 24p, 25p, 29.97p, 50p, 59.94p
XAVC QFHD Class480: 23.98p, 25p, 29.97p
XAVC QFHD Class300: 23.98p, 25p, 29.97p, 50p, 59.94p
MPEG HD422(1920x1080): 23.98p, 24p, 25p, 29.97p, 50i, 59.94i
HD ProRes 422HQ*: 23.98p, 24p, 25p, 29.97p, 50p, 59.94p, 50i, 60i
HD ProRes 422*: 23.98p, 24p, 25p, 29.97p, 50p, 59.94p, 50i, 59.94i
HD ProRes 422 Proxy*: 23.98p, 24p, 25p, 29.97p, 50p, 59.94p, 50i, 59.94i
Recording Format (RAW/X-OCN) *required AXS-R7
RAW SQ:
4K 17:9 (4096 x 2160): 23.98p, 24p, 25p, 29.97p, 50p, 59.94p
3.8K 16:9 (3840 x 2160): 23.98p, 25p, 29.97p, 50p, 59.94p
X-OCN ST/LT:
6K 3:2(6048 x 4032)*: 23.98p, 24p,
6K 2.39:1 (6048 x 2530)*: 23.98p, 24p, 25p, 29.97p
6K 1.85:1 (6048 x 3270)*: 23.98p, 24p, 25p, 29.97p
6K 17:9 (6048 x 3190)*: 23.98p, 24p, 25p, 29.97p
5.7K 16:9 (5672 x 3190)*: 23.98p, 25p, 29.97p
4K 6:5(4096x3432)*:23.98p, 24p, 25p, 29.97p
4K 4:3(4096x3024) :23.98p, 24p, 25p*, 29.97p*
4K 17:9 (4096 x 2160): 23.98p, 24p, 25p, 29.97p, 50p, 59.94p
3.8K 16:9 (3840 x 2160): 23.98p, 24p, 25p, 29.97p, 50p, 59.94p
Recording Format (Audio)
DC Input
XLR-type 4pin (male)
Battery DC Input
Square-shaped 5pin connector
DC Output
12V: Hirose 4pin x1
24V: Fischer 3pin x2
SDI Output
BNC×4, (12G, 3G, 1.5G-SDI)
HD MONI Output
BNCx1 (1.5G-SDI)
Audio Input
XLR-type 5pin (female) x1 (LINE/ AES/EBU / MIC / MIC 48V selectable)
AUX
LEMO 5pin (female) x1 (Timecode Output)
Lens Mount Hot Shoe
4pin x2, conforming to Cooke /i Intelligent Electronic Lens System
Network*
RJ-45 type x1, 10BASE-T, 100BASE-TX
Headphone Output
Stereo mini jack x1
Media type
ExpressCard/34 slot×2
SD card slot ×1
LPCM 4ch , 24-bit 48-kHz
S-Log3
133 x 159 x 172 mm (without protrusion)




alternatives
Super35 8K CMOS sensor 16bit 4K RAW recording 120fps 2K recording 14 stops latitude Mechanical shutter Built-in ND filters

Top of the Arri line-up In Camera ArriRAW 4:3 Sensor mode for anamorphic shooting

8K Monstro Vistavision Sensor 8192x4320 pixels (35.4 Megapixel) Lightweight Carbon Body Up to 300 fps (at 2K 2.4:1 2048 x 864) Interchangeable Optical Lowpass Filters Interchangeable Lens Mount PL/EF/LeicaM/BNCR Records in RedRaw and ProRes simultaneously
In set
Sony Venice with R7 recorder
Sony Oled Viewfinder
Sony R7 recording unit
2x512G AXS48 card and reader
15/19mm and shoulder support
Mattebox
FollowFocus
4x V-lock battery and charger
handle bars