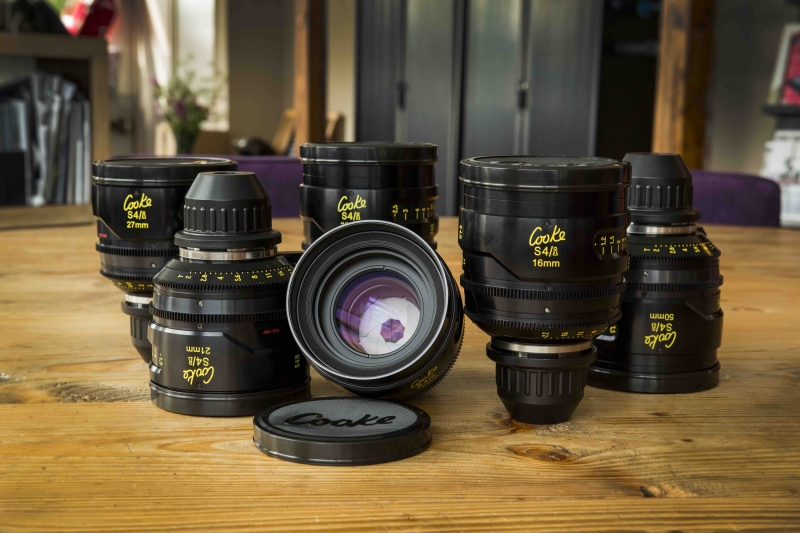 Cooke S4/i set
Famous 'Cook Look'
Standard Speed T2
PL-mount
Academy Award winning lens design
All Lenses 110mm front
overview
Cooke S4 optics offer superb optical and mechanical performance, control of flare, distortion, veiling glare and spherical aberrations at full aperture. The cam-type focus mechanism allows for smooth focus adjustments. Modular construction increases ease of maintenance and serviceability. Award winning Cooke S4 Prime Lenses were designed and developed in close technical collaboration with industry professionals. They are colour-matched and compatible with Cooke's S4 Mini's.
All of our S4 Prime lenses are equipped with /i Technology. S4/i lenses are designed for all PL mounted professional motion picture film and electronic cameras. The
/i Technology
provides cinematographers and camera operators with vital information on lens setting, focusing distance, aperture and depth-of-field, hyperfocal distance, serial number, owner data, lens type and focal length in both metric and footage measurements.
specifications
Angular Rotation of Iris Scale
Min. Marked Object Distance
Close Focus from Lens Front
Angular Rotation to MOD Endstop
Max. Diagonal Angle of View for Super 35 Format
Length from Front of Lens to Lens Mount
In set
Cooke S4/i 21mm T2

Cooke S4i/ 27mm T2

Cooke S4i/ 35mm T2

Cooke S4i/ 50mm T2

Cooke S4i/ 75mm T2